Pastor Tim Johnson | tbj@bcov.org | Lead Pastor
Tim was called to be the Lead Pastor of Bloomington Covenant Church in May, 2005 after having served churches in Minnesota, Michigan, and Maryland. He's married to Cyd (Cyndi) and they have three adult children. Their oldest son lives in Minneapolis with his wife and three children (8, 5, and 2). Their daughter and husband live in Chicago and have a beautiful infant son. Their youngest son also lives in Chicago. They have a Wheaton terrier, Ole, who makes them laugh every day.
Along with Cyd, Tim is an active walker, kayaker, occasional backpacker, and snowshoer. He routinely walks the mile to church, building neighborhood relationships, chatting with the dogs and getting exercise.
As a pastor during the COVID-19 pandemic, one of the richest parts of his role is to work with others in bringing hope of Christ to people's lives through various media platforms – which means learning curves. Cyd is an RN and uses her gifts and experience in many ways, from justice, advocacy, and mentoring ministries to meeting with others for prayer, study, and encouragement.
Anna Cornell | anna.cornell@bcov.org | Pastor of Student & Family Ministries
Pastor Anna joined our staff in the fall of 2016 after completing the Master of Divinity program at North Park Theological Seminary. Having grown up in southern CA, she has slowly learned to appreciate the beauty of the the four seasons, especially the character-forming Midwest winters!  She is engaged to Connor, who is a native Minnesotan and works as an environmental biologist. They love going on walks, kayaking/paddle boarding together, and snuggling with their golden retriever puppy, Laney.
Anna is passionate about creating safe spaces for honest questions and dialogue, and loves listening to people's stories. She strives to intentionally learn from those whose stories and voices are pushed to the margins, and is committed to partnering with others for the sake of God's justice and wholeness for all people. She also greatly enjoys live music, road trips, poetry, and good coffee.
Kirsten Sands | kirsten.sands@bcov.org |  BCov Kids Program Director
Kirsten's father was a Covenant minister so she lived in several places while growing up, but most of her childhood was spent on the East Coast.  During her junior year of high school her dad was called to serve a church in Minnesota which is where she met her husband for the first time. After graduating from North Park University in Chicago, they moved back to the Minneapolis area and were married here at BCC in 2007. Kirsten has a degree in Elementary Education and is grateful to be home with their children.  Luke is a high school Physics teacher and tennis coach in Columbia Heights. They live in Plymouth with their three daughters; Elise (9), Ayla (6) and Nora (2) and their boxer, Mia. They enjoy any and all things outdoors; bike rides and swimming are family favorites!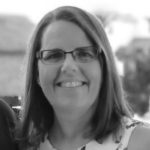 Rachelle Larin | office@bcov.org | Administrative Assistant
Rachelle started working as the Administrative Assistant at BCC in February, 2006. After graduating with a Bachelor of Accountancy from the University of North Dakota, she met her husband Todd at work. They have two grown children, Mackenzie who is living and working in Des Moines, IA as a Pricing Analyst and Andrew who just graduated from Grand Canyon University in Pheonix, AZ in Graphic Design.
God has prepared Rachelle for her role in administration with a variety of jobs over the years and she is blessed to work with and for this loving congregation. She enjoys listening to peoples stories, walking with family and friends, gardening, and snowshoeing.