Jared and Hannah Baker – Marsaille, France
Helping local churches and believers respond to problems of human trafficking and prostitution.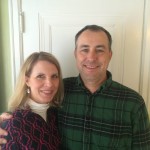 Randy and Cheryl Bevis – Thailand, Laos, Congo, Haiti and other fields Consulting and helping implement programs for clean water and food security projects.
 Jamie and Erica Rose – Anchorage, Alaska
Ministering to college students and young adults with Covenant Youth of Alaska.
 Gary and Mary Lou Sander – Medellin, Columbia
Christian formation and discipleship, advocacy for compassion, mercy and justice.