WELCOME TO BLOOMINGTON COVENANT CHURCH
For 2016 the Bloomington Covenant Church family was given a variety of scripture sections to hold onto for the year with the encouragement to ponder and pray through them,
using them as a lens for living.
One of those sections is a prayer of the Apostle Paul's for one of the early Christian churches.
Here is Paul's prayer, which has become our prayer for each other and others: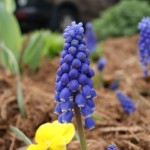 "I pray that you, being rooted and established in love, may have power, together with all the Lord's people, to grasp how wide and long and high and deep is the love of Christ, and to know this love that surpasses knowledge – that you may be filled to all the measure
of the fullness of God."
Ephesians 3:17-19
You're invited to be part of this too – to become more deeply rooted in Christ with us.
This invitation is central to this church, reflected in our Mission Statement:
"LOVING GOD & LOVING OTHERS; SERVING GOD THROUGH SERVING OTHERS."
On this website you'll get a glimpse of what's happening through this church.
Know that you're welcome to be part of what God is doing.
---